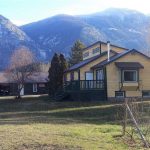 Managing a property can be stressful, complicated, and time-consuming, especially if you live far away! RE/MAX Discovery Real Estate understands owners' needs and concerns. Our Realtors® know that your rental property is one of your most valuable financial investments. Creston has a high-demand for rentals coupled with low vacancy rates. If you are interested in purchasing an investment property, or you own a house that is sitting empty, contact our office for information on our property management services! We will work with you to ensure your peace of mind while maintaining the value of your property.
RE/MAX Discovery Real Estate offers property management for residential and commercial properties, as well as tenant placement services. Clients trust the experience of RE/MAX professionals, because we know how valuable your property is. We understand the rules of the Landlord-Tenant relationship, and we take steps to maintain the value of your property while ensuring your peace of mind.
RE/MAX Discovery Real Estate has an experienced property manager who offers placement services to help you find your next rental home or commercial space. We respect your needs and rights, as outlined in the BC Residential Tenancy Act (2023).