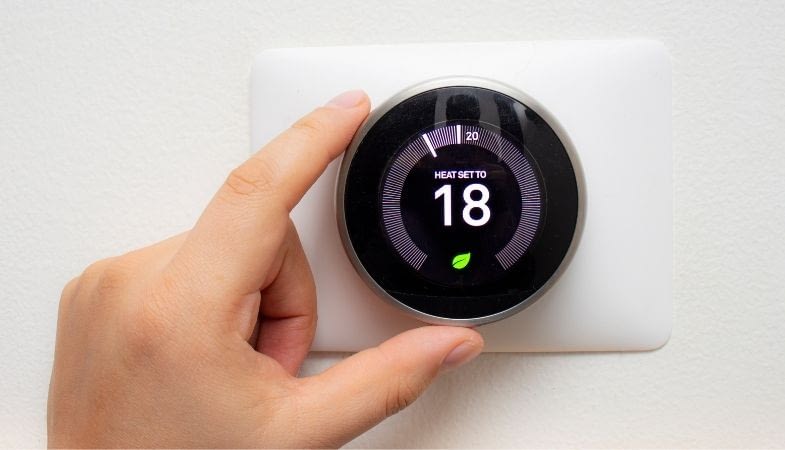 Energy bills can get dramatically high, especially during Canada's cold winter months. There are, however, steps you can take to conserve energy and save money at the same time. Below are our top eight Winter Home Energy Solutions.
8 – Turn Down the Temperature
When you're away from your house for a few days, you don't need to keep the heat cranked up. By reducing the temperature when you're out of the house, you can save money on heating costs.

Another idea is to add an extra blanket on your bed and reduce the temperature by a couple of degrees at night.

Caulking and sealing leaks will insulate your home better, which will save you money in the long run.

You'll want to make sure you're buying the correct type of caulk, depending on what specifically needs to be sealed, and whether it is interior or exterior.

6 – Replace Furnace Filters
It's a good idea to keep your furnace properly adjusted with annual maintenance.

This will include cleaning or replacing your filters every couple of months to improve efficiency.

There are several ways you minimize water consumption. Low-flow shower heads and smaller toilets will minimize water output.

You'll also want to make sure you fix any leaky taps that might be constantly wasting water.

4 – Update Old Appliances
Refrigerators, freezers, dishwashers and washing machines that are a couple of decades old may be using significantly more energy than newer models.

Sometimes the investment in a new major appliance will save you money in the long run.

We like to be barefoot in our own space, but when our feet are cold, so is the rest of our body.

Consider purchasing an area rug for rooms in your home that have cold floors.

Electronics that are plugged in still use energy, even when you're not using them.

By unplugging electronics and small appliances when you're not using them, you will ensure that there is not additional energy being used up.

One of the simplest ways to reduce your energy use is by flicking off lights when you leave a room.

It's also a good idea to switch to energy-efficient lighting.
---

RE/MAX Canada

Visit the blog
A home is the biggest transaction most of us will ever make. That's why it's important to work with an experienced and knowledgeable real estate agent. For more than 20 years, RE/MAX has been the leading real estate organization in Canada and beyond. With a presence in over 100 countries and territories, the RE/MAX network's global footprint is unmatched by any other real estate brand. RE/MAX has always been an industry leader, adopting the latest technology and creating innovative marketing programs. RE/MAX was the first brand to expand its reach world-wide through a revolutionary global listing site, featuring listings from more than 80 countries, displayed in over 40 languages. Closer to home is RE/MAX's deep commitment to the communities we operate in. Our exclusive Miracle Home Program allows RE/MAX agents to donate a portion of every home sale to Children's Miracle Network.